Square Table Auto Packing Line (Single line) Automatic Feed Packaging Line
Model: ALD-CHC
Description


ALD-CHC square table auto packing line (single line) is best suited to the packing of furniture hinge, slide rail, handle, decorative hardware, plating metal pipe, oil seal, bag decoration hardware, six-meter stainless steel tube, lighting decorative hardware and all kinds of automatic packing decoration parts.
Feature
s
1. The square table auto packing line can be directly connected to the production line to fulfill the needs of fully automatic mass packaging. Manually dumping packaging materials is also feasible to satisfy small-scale and versatile packing requirements. 2. Customized design on the basis of product features; avoid squeezing the packaging materials; materials which stuck or failed when turning direction will be rejected to ensure a stable and constant packing process. 3. Speed of ALD-CHC automatic packaging line can be adjusted through inverter and servo driver and based on customer request and forms of packing materials. 4. User-friendly design, allowing easy and fast assembly and disassembly. 5. Equipped with a wide variety of safe devices, including emergency stop, fault stop, electricity leakage protection, warning light, etc.
Structure
The whole system of ALD-CHC automatic packaging line includes a square table aligning unit, an automatic aligning and conveying system and the packaging machine.
1.
Square
T
able
A
utomatic
F
eeding
Part
Sort the products into 1 line.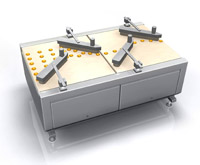 2. Automatic Aligning and Conveying System
Photocell electric eyes and inverter system assure accurate positioning and feeding of products. Cantilever type design makes it easy and convenient to assemble, disassemble and clean. Compatible and flexible system is suitable for various products.
3. Packaging Machine
Specific packaging machine is available according to various items and customer needs.
Parameters of ALD-CHC Square Table Auto Packing Line

| | |
| --- | --- |
| Model | ALD-CHC |
| Main Belt Width | 600/800/1,000 mm |
| Packing Speed | 40 to 300 packs/min |
| Power | 220 V, 50/60 Hz |
| Total Power (kW) | according to actual demands |
| Overall Dimension (mm) | 9000 × 950 × 1500 (according to actual demands) |
Related packaging machines